Become an Athlete
The following three forms are necessary to be eligible to participate as an athlete in Special Olympics.  Submit them to Tim or Meredith by emailing area5sond@hotmail.com or turn in at practice. 
Athlete Opportunities
Local Competition Opportunities

During each season 8 – 10 week season, there are one or two practices each week to help your child develop skills in the sport, which they choose to participate.

Also, during the each 8 – 10 weeks season, Special Olympics Grand Forks will host a competition in town in which athletes compete with other in their age group/ability level.  This competition is usually referred to as the district or area tournament.

From time to time, local high schools or University of North Dakota will invite us to do an exhibition at halftime of one of their events.  These events are not mandatory but are usually fun events for athletes to attend.

State Competition Opportunities

At the end of each season, Special Olympics North Dakota offers a State Tournament, which athletes may compete.  In order to qualify for the State Tournament, an athlete must attend the district or area tournament.  In some instances, an athlete can compete at state if an emergency situation arises on the day of the district/area tournament and the athlete is not able to attend.  If this occurs, please contact the coach and/or Meredith Baumann.

The State Tournaments rotate through various towns in North Dakota and usually require an overnight stay in a hotel with a chaperone.  You may travel to the State Tournament and keep your child in your room overnight if you would like, however please let Area Director, Meredith Baumann know if you plan on doing this as there is a form that you will need to complete indicating that your child will be separated from the rest of the group for a portion of the trip.  Mileage and hotel expenses are not be reimbursed if you are traveling to State Games as a parent.

It is not a requirement of all athletes to compete at State Games.  If you do not feel your child is ready to travel overnight, they still may participate locally.  However, if your child does not plan to attend State Games, please inform your coaches, as this is very helpful information for them to plan for the season.

National Competition Opportunities

Once every four years, Special Olympics USA holds a National Games.  Athletes from Grand Forks can be selected to represent Team North Dakota in these National Games.  The selection process is partially based on results of competition at State Games and partially based on a lottery drawing.  In 2010, Grand Forks sent 8 athletes and 5 coaches to National Games in Lincoln, Nebraska

World Competition Opportunities

Special Olympics International holds a World Summer Games and World Winter Games on a 4 year rotation.  In 2009, Grand Forks sent one athlete to World Winter Games in alpine skiing.  The world summer games are going to be held in 2011.  Selection to World Games is based on results at State Competitions and a lottery drawing process.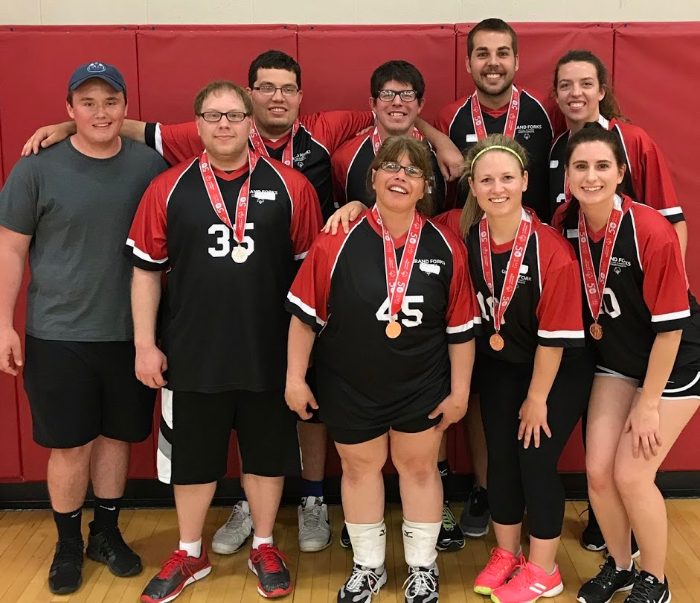 ---
Volunteer Roles
If you looking to volunteer as a coach, helper, partner or any other way, click here for more information and forms that need to be completed.
*Note: If registering as a Partner, you will need to fill out the additional "Unified Partner Registration" form, found on this page.
Finally, for any questions about volunteering, click here.
Available Opportunities
---
SO College
For information about involvement with the University of North Dakota SO College chapter, please click here.