Sports Offered
Special Olympics Grand Forks offers training and competition for the following sports cycles: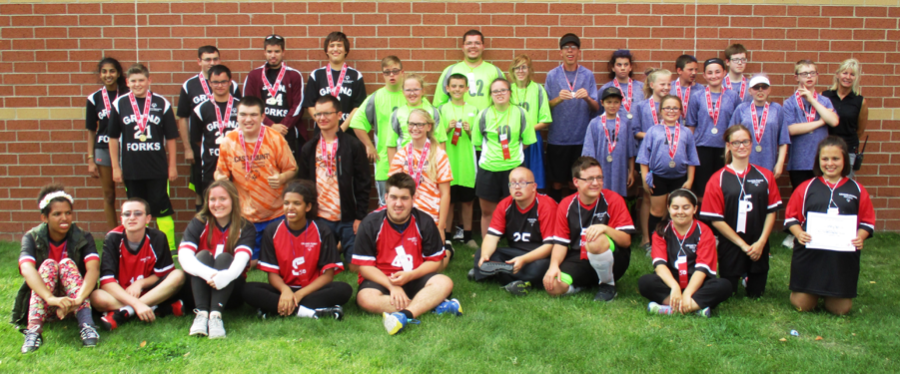 ---
Award Nominations
Every year, Special Olympics North Dakota gives out awards.  If you would like to nominate someone for this award, please click here to view the Hall of Fame Nomination Form and the Award Nomination Form
---
Area Management Team (AMT) Members
Meredith Baumann | Area Director | Email
Tim Baumann | Assistant Director | Email
Josh Parrill | Training | Email
Joan Schultheis | Fundraising Chair, Secretary | Email
Dave Schultheis | Member at Large | Email
Jolene Mikkelson | Fundraising | Email
Dr. Pat Moore | Medical | Email
Kristin O' Connor | Outreach | Email
Kyle Rasmusson | Youth Activation | Email
Rachel Craig | Youth Council | Email
Sarah Sand | Youth Council | Email
Laura Bakken | Youth Advisory | Email
Cathy Foy | Families Coordinator | Email
Patty McGlynn | Athlete Representative | Email
David Dahlgren | Athlete Representative | Email
Julie Watson | Family Committee | Email
Holly Stusynski | Family Committee | Email
Tommy Mikkelson | Athlete Representative
---
Frequently Asked Questions (FAQ)
What is Special Olympics?
Special Olympics is a non-profit organization dedicated to providing year-round sports training and competition in a variety of Olympic-type sports for people eight years of age and older with developmental disabilities, giving them continuing opportunities to develop physical fitness, demonstrate courage, experience joy and participate in a sharing of gifts, skills and friendships with their families, other Special Olympics athletes and the community.
Who is eligible?
Special Olympics is open to every developmentally disabled person, regardless of the level or degree of that person's disability, and whether or not that person also has other mental/physical disabilities. Each athlete must register to participate in Special Olympics as required by the General Rules.  Athletes must be a minimum of eight years old.  There is no maximum age limitation for participation.
How does an athlete register to participate?
A simple medical and release form is required of each athlete. A physician signs the medical form and the guardian of a minor athlete or the adult athlete signs the release form. Once these forms are on file in the Special Olympics office, the athlete may begin attending practice in his/her preferred sport. Please contact us for an Athlete Registration form, or find instructions for downloading the form online from www.specialolympicsgf.com
What sports are offered at Special Olympics Grand Forks?
Special Olympics Grand Forks offers the following sports seasons:
Basketball – January-March
Summer Games  – March-June

(Track & Field, Volleyball, Swimming, Power Lifting)

Soccer and Bocce Ball – July-September
Bowling – September-November
Winter Games – November-January

(Alpine Skiing, Cross Country Skiing, Snowshoeing)
What is Unified Sports®?
Unified Sports® is a team experience that combines approximately equal numbers of athletes with and without developmental disabilities of similar age and ability. With the help of a volunteer coach, athletes train together for competitions.  Unified Sports is a program spearheaded by volunteers. Non-developmentally disabled partners not only participate in the sports but can help out with coaching and organizing as a way of fulfilling volunteer or community service commitments.
Only a few hours together a week gives everyone a chance to develop sports skills, build new relationships, break down traditional barriers, and reap the benefits of coming together as one team.
Special Olympics Grand Forks offers unified sports in Volleyball, Soccer, Bocce Ball, and Team Handball.
Does Special Olympics offer programs for athletes of all levels and abilities?
Special Olympics prides itself on providing programs for each skill level. The traditional Special Olympics program creates competition environments based on each athlete's abilities by creating heats, or competition groups, based on preliminary scores and times. This ensures that athletes compete based on skill, age and gender. For athletes with severe disabilities, Special Olympics offer a Motor Activities Training Program that emphasizes training and participation rather then competition.
How much does it cost to participate in Special Olympics?
All Special Olympics programs are free to eligible athletes and are possible thanks to the generous support from individuals and businesses that believe in Special Olympics athletes. Special Olympics is supported, almost exclusively, from individuals, organizations, corporations and foundations.
Does Special Olympics need volunteers?
YES! Volunteers are the lifeblood of Special Olympics Grand Forks. They serve as coaches, unified partners, officials, trainers, directors and a variety of other valuable roles. Whether it's a few hours per week, once a month or once a year, what volunteers give to Special Olympics is priceless. They energize our program every day and, in return, they gain their own rewarding experience.   Contact Meredith Baumann or visit the Join Us > New Volunteers tab of this webpage to find out more about becoming a volunteer.